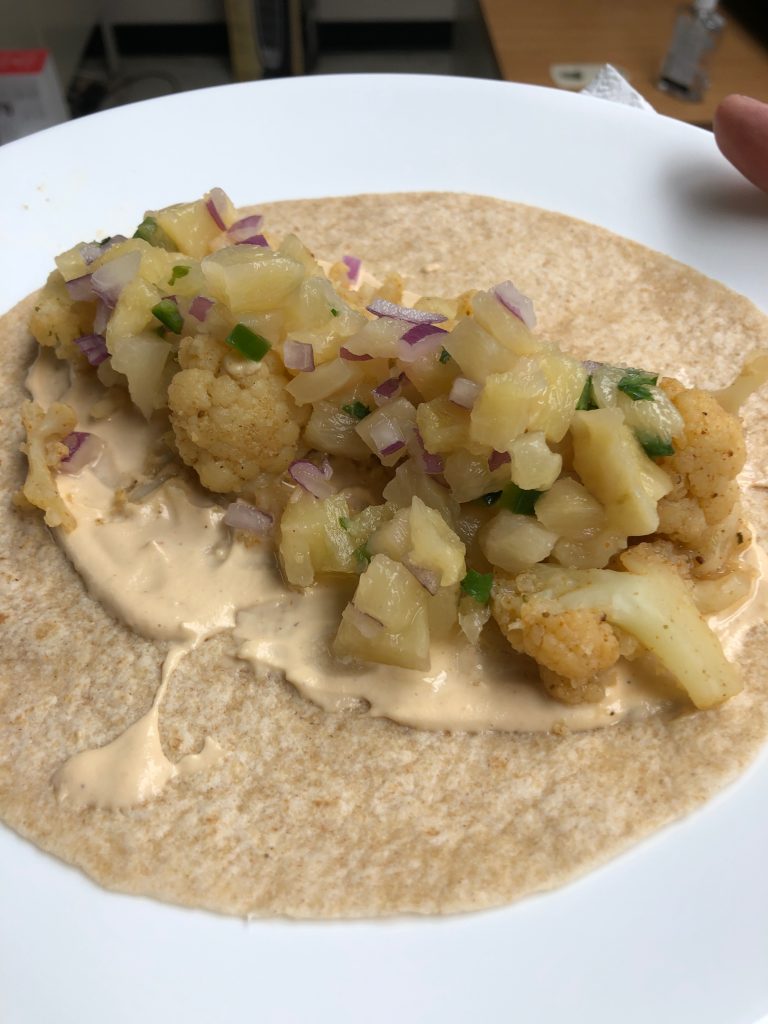 These fish-less cauliflower are simply amazing! Inspired by "Honest Tom's Taco Shop" in Philadelphia, PA, these tacos boast flavor beyond compare. When we formulated this recipe, we pulled from a few of our favorite things. Cashew sauce that has been modified to offer a smokey, limey, creamy flavor with a touch of heat, a Pineapple salsa for a touch of tropical flavor and cauliflower prepared in a shrimp boil sort of way with beer and old bay. Connie knocked this one out of the park – ENJOY!
(note: if you want to cut your prep time in half, buy frozen cauliflower! It's already prepped and being that it is boiled, you don't have to worry about texture!)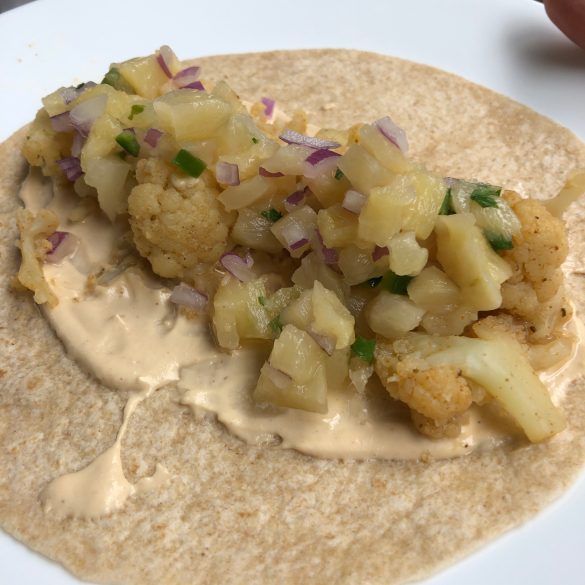 Ingredients
1 can Lager beer (such as Yuengling)

1/2 cup water

1 Head Cauliflower (or two frozen bags)

Chipotle in Adobo Sauce

Salt

Pepper to taste

Onion Powder

Old Bay

Smoked Paprika

Garlic Powder

CASHEW SAUCE:

1 Cup Raw Cashews

Water to just under the top of the cashews in blender

1tsp Lime juice

tsp Adobo sauce

1/2 Chipotle Pepper

1/2 tsp Apple Cider Vinegar

Pineapple salsa (see recipe)
Instructions
Cauliflower
In a pot, bring beer, water & seasoning to a boil.
Seasoning is to taste, but here is a starting point. 2 TBSP Old Bay, 1/2 tsp onion powder, 1/2 tsp smoked paprika, 1/2 tsp garlic powder, pinch of salt and pepper
Once boiling, put cauliflower in pot and let come to a boil & lower to medium for about 10 minutes, or until tender.
Chipotle Cashew Cream Sauce
If you are using a standard blender, soak your cashews overnight to soften them. In a vitamix, or other high power blender, this is not necessary)
Combine cashews, water, lime, salt, vinegar, adobo sauce & chipotle pepper in blender and blend on high until smooth. Texture should be creamy, not runny.