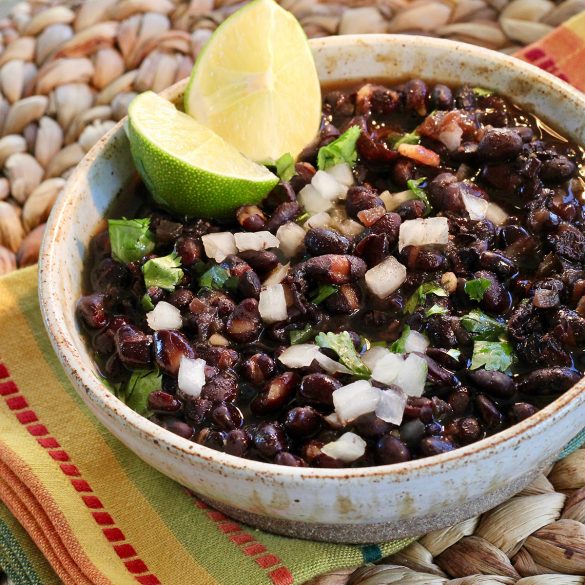 Ingredients
3 tablespoons (45 ml) olive oil

1 cup (160 g) chopped red or yellow onion

1 red pepper, chopped (optional)

6 chopped garlic cloves

1 green jalapeño pepper, chopped

2 teaspoons smoked or sweet paprika

2 teaspoons dried oregano

1 teaspoon whole cumin seeds

1-2 canned chipotle peppers in adobo sauce, chopped, depending on your heat preference (I use one)

2 tsp pink himalayan sea salt

1 pound (450 g) dried black beans, picked over and rinsed

2 bay leaves

1/4 cup (60 ml) fresh orange juice

2 tablespoons (30 ml) fresh lime juice

3-1/2 cups water
Instructions
Press the "saute" button on an electric pressure cooker and preheat on high heat. Once the interior pot is hot, add the olive oil and onion. Cook, stirring frequently, until the onion is softened, about 3 – 5 minutes. 

Add the red bell pepper and saute for 1 minute.

Stir in the garlic, jalapeño, paprika, oregano, cumin seeds, chipotle and 1 tablespoon salt (see note below) and stir until fragrant and the spices are coated in oil, about 30 seconds.

Add the black beans, bay leaves, orange and lime juice and the water. Secure the lid of the pressure cooker and cook on high for 45 minutes, allowing the pressure to release naturally.

Taste the beans and season with additional salt, if needed.

Serve the beans in bowls with cooked rice, quinoa or other whole grain. Top with desired garnishes and enjoy.