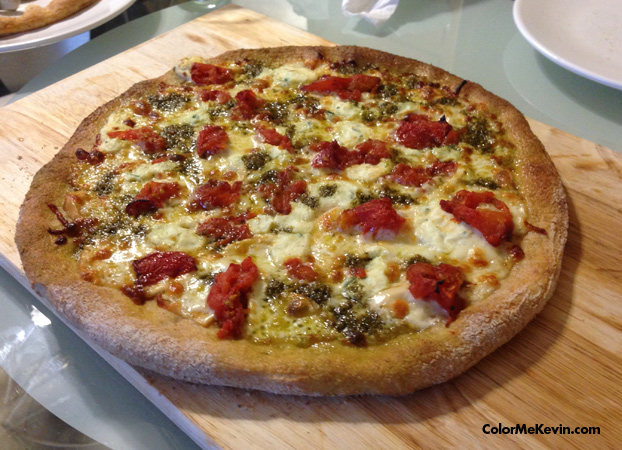 The inspiration for this recipe came from an awesome pizzeria and italian restaurant in Westmont, NJ called Treno. It's a very hip, trendy bar and restaurant with specialty wood fired pizzas. On my first trip there, I went with the basics and had a pizza a knew I'd enjoy – a wonderfully traditional Margarita pizza with fresh buffalo mozzarella, tomato, basil and sea salt. The second time around, I decided to be a bit more adventurous and got the Smoked Mozzarella with pesto and oven roasted tomatoes. (It was a special that week)
When I got home, the variation I made was similar, but with a couple added items. It wasn't better or worse – just different. So follow my basic pizza recipe and instructions, but instead of sauce, top your pie with the ingredients below. Hope you enjoy!!!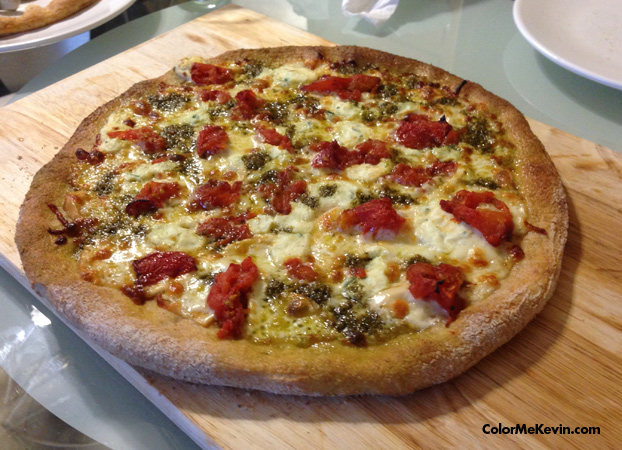 Ingredients
Oven roasted tomatoes (click link for instructions)

Smoked Mozzarella

Pesto (fresh is preferred, but jared will be fine)

Ricotta filling from manicotti

Fresh pepper & salt to taste

Shredded cheese (optional)
Instructions
Follow my basic pizza dough recipe from my HOME MADE PIZZA link. Once your dough has been tossed, arrange a single layer of smoked mozzarella.  Top with a sprinkling of pesto, & chopped roasted tomatoes.  You could end here with just a quick grind of fresh pepper and some sea salt.  I had some manicotti filling in the fridge from when my friend made it the other day, so I put some small drops of the filling around the pizza and filled in any bare spots with some italian 4 cheese blend.  Through it in the oven for about 4-7 minutes at 500-525F and you will have a delicious dinner that feels like something you'd get during a night out on the town!