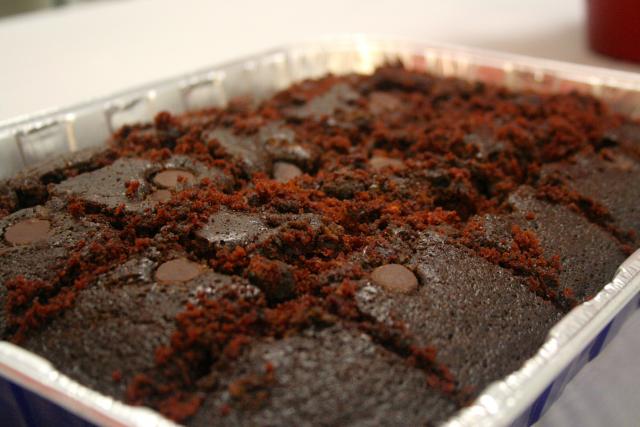 Theresa, part of my work family, makes the most amazing double chocolate cake. It's light and fluffy – Just chocolaty enough. When I asked her for the recipe, she admitted it was a Better Homes & Gardens recipe, but I don't care! As far as I'm concerned, it's her's.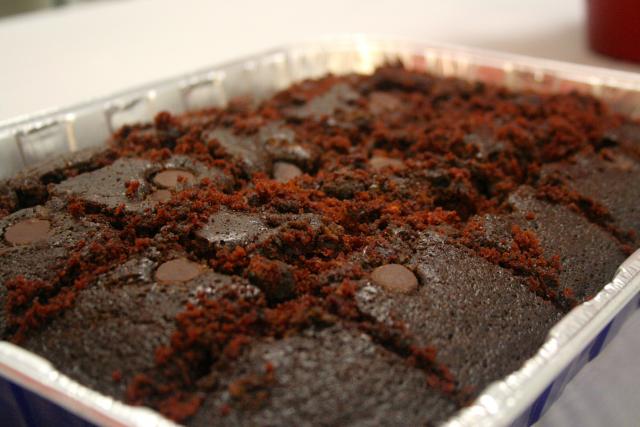 Ingredients
1-2/3 cups all-purpose flour*

1 cup packed brown suagr or granulated sugar

1/4 cup cocoa

1 teaspoon baking soda

1/2 teaspoon salt

1 cup water

1/3 cup vegetable oil

1 teaspoon vinegar

1/2 teaspoon vanilla

1/2 cup semi-sweet chocolate chips
Instructions
Heat oven to 350.  Mix flour, brown sugar, cocoa, baking soda and salt with a fork in ungreased square pan, 8x8x2 inches. Mix in remaining ingredients except chocolate chips. Sprinkle chocolate chips over batter. Bake until wooden pic inserted in center comes out clean, 35-40 minutes.  Sprinkle with powdered sugar if desired. *Do NOT use self rising flour for this recipe. ****Cake can be mixed in bowl if desired.
Notes
Chocolate-Cherry Cake: Omit water and chocolate chips. Stir 1/3 cup chopped almonds into flour mixture. Mix 3/4 cup water and 1/4 cup maraschino cherry syrup. Stir in syrup mixture and 1/4 cup chopped maraschino cherries with the remaining ingredients. Chocolate Spice Cake: Stir 1-1/2 teaspoonsground allspice into flour mixture. Pumpkin Cake: Omit cocoa, vanilla & chocolate chips. Stir 1 teaspoon ground allspice into flour mixture. Decrease water to 1/2 cup. Stir in 1/2 cup canned pumpkin pie mix with the remaining ingredients.