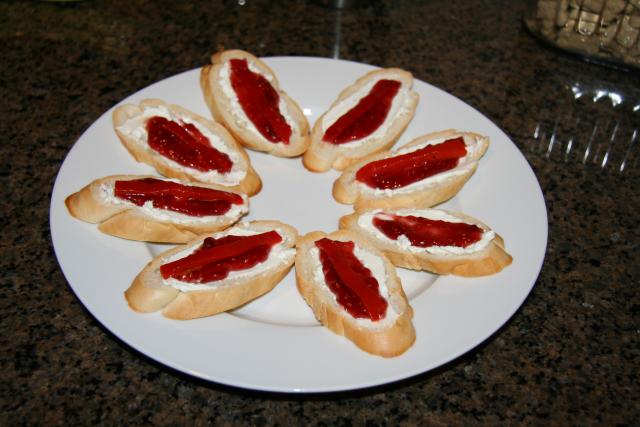 So, in reality, there is actually no fig in this dish. I got the idea from LaBodega, one of the best restaurants in Kansas City. It is an amazing Tapas Bar, with the best happy hour in town (half price tapas and sangria) and the food is absolutely amazing.
The way they serve their dish is a piece of toasted bread topped with roasted red peppers, goat cheese, and a fig coulis. It's delicious. I wasn't too keen on making a fig coulis, so I went to the organic section of our supermarket to find a premade alternative. Since I couldn't find any fig sauces, I ended up getting a Rasperry Pecan Jam to use as a substitute. The results were amazing! Maybe even better than the fig. (and probably healthier since there wasn't any butter in it)
WINE PAIRING – If you make this with a fig jam or spread, Pinot Nior pairs wonderfully. The Pinot Noir I've used, which was perfect, was Prophecy's 2013 Pinot Noir. The match couldn't have been better!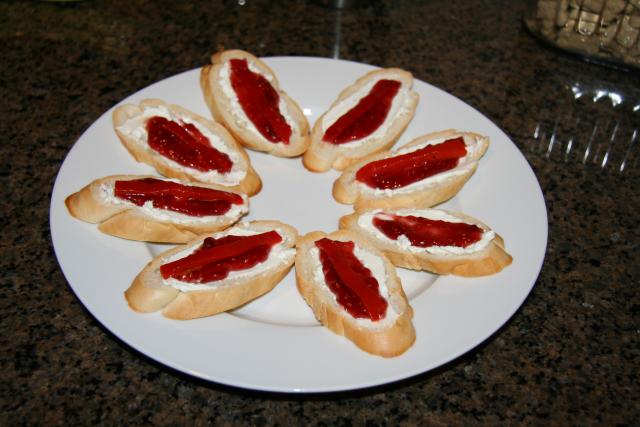 Ingredients
French Bagette

"SIMPLIFY" brand Rasperry Pecan Jam (or a fig butter/jam)

Goat Cheese

Roasted Red Pepper
Instructions
Slice the bagette on a diagonal into slices about 1/4-1/3" thick. In the oven, broil them on a cookie sheet at second to top rack for between 45 seconds and 2 minutes (until they just start to get golden) WATCH THEM CLOSE- THEY WILL BURN FAST.
Spread a generous modest amount of goat cheese on the toasted bread.
Top goat cheese with a small spoonful of the Rasberry Jam
Place a thin slice of roasted pepper on top
That's it! Quick, Easy, and delicious.... Lay them out nicely on a nice plate or platter and you'll have your guests ew-ing and ahh-ing.